"In the next 10 years, wood processing and export must become a key industry in Vietnam's production and export, and Vietnam will become a prestigious leading centre for woodwork production and export of the world," said Prime Minister Nguyen Xuan Phuc at the conference "Orientations and solutions for fast and sustainable development of wood processing and export". This is the first National Conference on wood processing and export held in Ho Chi Minh City.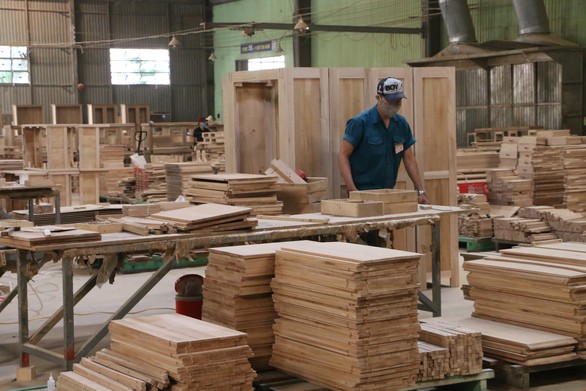 Addressing the meeting, Prime Minister Nguyen Xuan Phuc affirmed that so few industries have been able to generate a double digit growth for 20 consecutive years as wood processing and forestry. Wood furniture has become a major export industry, and in 2017 the industry brought Vietnam US$8 billion, accounting for one fifth of Vietnam's total agricultural exports. One notable thing is that Vietnam is leading the Southeast Asia region, ranking second in Asia and fifth in the world in terms of wood export. This is a remarkable achievement for forest growers and more than 4,500 enterprises operating in wood processing, greatly contributing to the country's economic and social benefits and environment.
However, it is worth noting that Vietnam's wood processing and export sector accounts for less than one tenth of the world market share of timber. Enterprises mainly operate in the form of outsourcing, requiring the country to find solutions to be able to exploit the great potential of wood processing and forestry products for export.
At the meeting, Prime Minister Phuc assigned Ministry of Agriculture and Rural Development (MARD) to develop wood processing industry into a key sector in the production and export of the national economy in the next 10 years, striving to make Vietnam a leading centre in manufacturing and exporting wood products with prestigious names in the world. Prime Minister Phuc also assigned targets for wood processing and export in 2018 to reach US$9 billion, US$10-11 billion in 2019, US$ 12-13 billion in 2020 and US$18-20 billion in 2025. "My number is higher than the targets of MARD because I expect the Vietnamese timber industry will strive more and contribute more to the national economy. My targets are based on the opinions and aspirations of the masses of businessmen, industry associations and localities throughout the country. After this meeting, the government will issue a directive on development of wood processing and forestry products for export, thereby creating legal basis for enterprises to exploit the potential in this field," Prime Minister Nguyen Xuan Phuc emphasised.
Minister of MARD Nguyen Xuan Cuong said that the ministry would fully and seriously receive the direction of Prime Minister Nguyen Xuan Phuc as well as delegates to complete the strategy, scheme and programme to develop Vietnam forestry sector on par with its potential advantages in the context of deep integration and restructuring of the national economy. MARD will work closely with other ministries and central agencies and 63 provinces and cities nationwide to strengthen international cooperation to mobilise the business community and farmers to cooperate closely with all stakeholders to achieve the best results.
On behalf of the Ministry of Industry and Trade, Deputy Minister Tran Quoc Khanh pledged to work closely with MARD in the coming time to promote the development of Vietnam's wood and forest products industry to a new height.

My Chau - VCCInews
Related News