Việt Nam's woodworking industry can expand exports but to expand market share and increase value, it needs to keep pace with market trends and capitalise on opportunities, experts have said.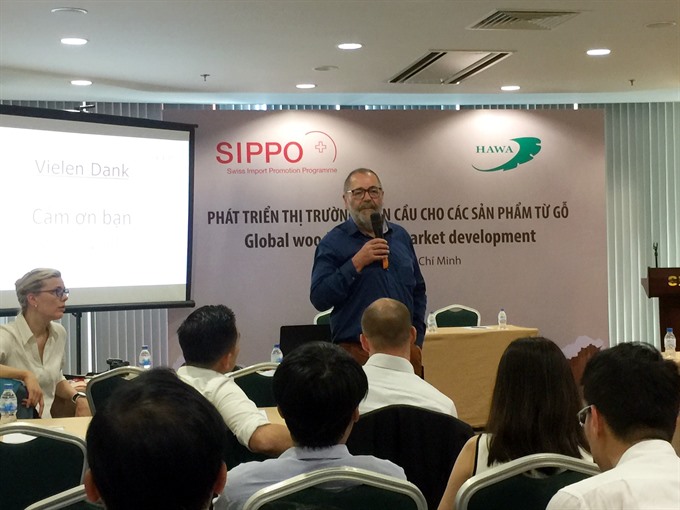 Helmut Max Merkel, editor-in-chief of Mobelmarkt (International Interior Business Magazine) and general manger of CRP Consulting Nuremberg, Germany, said the German furniture market is "big but difficult."
"Germans love to buy furniture."
German consumers were not directly affected by the European crisis, and the country's low jobless rate makes its climate conducive for private consumption, he told the Global Wood Products Market Development seminar in HCM City on Wednesday.
"German love to live in a cosy environment. So the per capita consumption of furniture is higher than in other countries."
There was an increase demand for furniture products made from natural materials, multifunctional furniture at reasonable prices, he said.
In the past, Germans preferred harder seats compared to consumers in its neighbouring countries, but now the seat comfort has become important and modular sofa sets are becoming popular, he said.
Germany's furniture imports were worth 9.4 billion euros (US$11.67 billion) in January-September last year, with Poland, China, the Czech Republic and Italy being the biggest exporters and Việt Nam ranking 13th.
But not many Germans have information or know about Vietnamese furniture, Merkel said.
Juliane Lemcke, technical wood expert for the Swiss Import Promotion Programme, said demand for wooden furniture in the EU is rising slowly, with consumption steady in the larger markets like Germany, the UK, Italy and France and increasing in Spain, Poland, Sweden and the Netherlands.
There is an increase in the use of engineered wood products (EWP) for home construction, commercial buildings, industrial products and furniture, especially flat pack furniture, in the EU, she said.
The EWP market in Europe is still at an early stage of development but its use is growing rapidly, especially in home construction, commercial buildings, industrial products and furniture, due to its cost competitiveness.
And demand for environment-friendly packaging products to replace non-recyclable materials is on the rise.
Talking about the European home furnishing market in 2016-20, she said demand for multi-functional furniture is expected to increase, with living room and bedroom furniture generating the majority of sales followed by the kitchen segment.
The major trend in bedroom furniture is the use of country or rustic style, involving use of pale, pastel colours and traditional styling, she said.
She also spoke about the US trends and effects on furniture.
With the number of single-person households increasing, and thus also smaller homes and apartments, demand for modular, space-saving and multifunctional furniture and furniture for storage is high, she said.
Bjorn Henseler of Schuler Consulting GmbH said Việt Nam is good at making furniture from solid wood, but the future of the market lies in customisation.
So businesses should also grasp market trends to adopt suitable development strategies, delegates said.
They agreed that consumers' shopping habits in the US and EU are changing with the growth in e-commerce, especially to young customers.
Huỳnh Văn Hạnh, permanent vice chairman of the Handicraft and Wood Industry Association of HCM City (Hawa), said Việt Nam's exports of wood and wooden products have increased by 12.3 per cent a year on average for the past seven years, reaching $7.66 billion last year.
They are expected to reach $8.5 billion this year, he said.
Co-organised by Hawa and the Swiss Import Promotion Programme, the seminar was held on the sidelines of the Việt Nam International Furniture and Home Accessories Fair being held at the Saigon Exhibition and Convention Centre from March 7 to 10.
VNS
Related News