Vietnam's wood industry is leaving behind a successful 2020, ready to embrace the new advantages that some of last year's signed and effective trade agreements bring with them.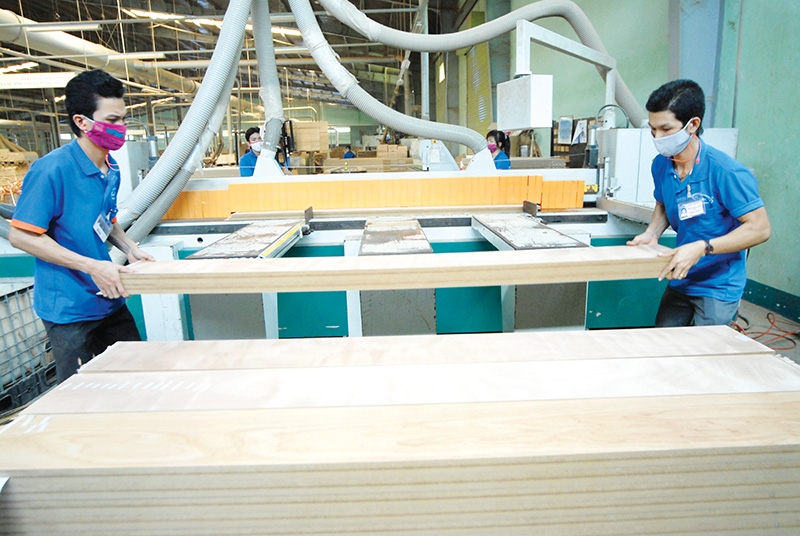 However, local associations recommend shifting the focus from purely manufacturing consumer goods to creating identifiable brands and innovations.
Vietnamese flooring provider Sagi Co., Ltd. is currently working with Japanese partners to develop a flooring centre in Vietnam. The company's director Nguyen Phuc Thang wants to take advantage of his understanding of the Japanese market, as well as the company's experience in developing its Son Lam brand for laminate flooring to connect supply and demand for wooden flooring products.
Thang realised that developing such a centre is not a new model, but he thought it is the "best solution" at this time as it can help Sagi transform its business model from manufacturing to trading of laminate flooring. According to Thang, this could also help other domestic manufacturers better compete in the market and effectively access major trading partners in the world, thus creating a sustainable ecosystem for Vietnamese flooring firms.
Meanwhile, Lam Viet JSC has seen many improvements after changing its wood product lines to serve the UK and US markets, which helped the company regain a balance in production and export activities. Previously, Lam Viet had seen stable sales of outdoor and indoor furniture, with sales of over $45 million per year to these markets which accounted for 85 per cent of the company's export value.
But the pandemic put Lam Viet in a difficult situation as orders fell sharply, dragging profit margins down and leading to tightened cash flow and stagnating production. In the end, half of Lam Viet's employees had to leave the firm and find income elsewhere.
Focus is key
Market reports show that people around the world tend to stay at home more as COVID-19 has not been controlled, especially in the US and Europe. The Vietnam Timber and Forest Product Association (Vifores) also quoted American retailers as seeing an increased demand for wooden kitchen products, cabinets, and kitchen-related accessories, resulting in imports worth around $4 billion a year.
Nguyen Liem, general director of Lam Viet, believed he has "identified those product lines with room for growth" based on his years of experience in doing business with US and UK markets. The strength of Vietnam's wood industry in its five main export markets – the US, Japan, South Korea, China, and the EU – lies in kitchen and bathroom cabinets as well as decorative boards.
However, COVID-19 exposed the weaknesses of the Vietnamese wood industry, as "many enterprises could not identify their product lines and strategic markets", explained Do Xuan Lap, chairman of Vifores. "Worse still, some companies continue to make products that do not have great demand and are not expected to increase highly in the future. We cannot keep these outdated product lines forever as labour conditions, technology, and markets constantly change."
According to Lap, kitchen, bathroom, and some other wood products account for about 60 per cent of the total furniture demand worldwide, thus forming strategic product lines for many Vietnamese manufacturers. As the pandemic broke out, the supply chain for these strategic products did not fluctuate too much as demand stood as high as before. However, the demand for other wood products plummeted rapidly.
Survival factors
Last year, Vietnam's export of wood products reached $12.5 billion, greatly exceeding the previous record of $11.2 billion in 2019. However, data from the General Statistics Office showed that the production index of the processing industry for wood and bamboo products decreased by 5 per cent, and the inventory index for the entire wood and bamboo industry increased by 27 per cent.
Meanwhile, the global market continues to be fragmented by the global health crisis, making Vietnam's wood product exports subject to fiercer competition from major producing countries in terms of pricing, design, and quality. This creates great pressure on the sector's goal of becoming a key economic contributor in the 2021-2025 period, as well as increasing the export turnover this year to $14-14.5 billion.
This year, Vietnam's wood processing and export industry is expected to grow in both quantity and quality but will also face many difficulties due to the changes from export markets, especially the US. These challenges will add up to the ones from importing the huge amounts of raw materials that serve domestic and export demand. According to the Ministry of Industry and Trade, imports of wood in 2020 were estimated at $2.8 billion, up 10 per cent compared to 2019.
Vietnam is currently the leading wood producing country in Southeast Asia and second in Asia, but the country is still far behind China – the largest wood exporter in the world. The Chinese government even upgraded Guangzhou International Port to become a destination for ships carrying raw wood from Africa, which not only contributes greatly to the reduction of input costs for the Chinese wood processing industry but also helps increase competitiveness in the global market.
However, latest data from the Agro Processing and Market Development Authority (AgroTrade) under the Ministry of Agriculture and Rural Development (MARD) showed positive signs for Vietnam's wood industry, coming from its main export markets. The US economy grew again in the third quarter, with consumption increasing by 41 per cent and continued high demand for household furniture. Meanwhile, forecasts about an economic recovery of the EU could also push up the bloc's market for wooden products.
Penetrating markets
Opportunities may also come from the EU-Vietnam Free Trade Agreement, signed with Vietnam's fourth-largest market for wood and wood products. Data from AgroTrade showed that the export value of forest products to the EU only reached $864 million in 2020, accounting for about 5.4 per cent of Vietnam's total export turnover and covering just 1 per cent of the EU's rising demand for these products. Thus, there is still much room left to further capitalise on exports to this market.
Vietnam is moving towards a sustainable supply of raw materials, with its forest certification system in December officially being recognised by the Programme for the Endorsement of Forest Certification, a leading global alliance of national forest certification systems dedicated to promoting sustainable forest management through independent third-party certifications.
Up to now, Vietnam has 41 forest owners – companies and household groups that have implemented and certified sustainable forest management with a total area of over 278,000 hectares in 28 localities.
According to the MARD, 2020's wood output is estimated at 30 million cubic metres, meeting 75 per cent of the demand for raw materials, coming from the current 5,650 wood and forest processing enterprises.
Vietnam fulfils important prerequisites for the wood industry to recover its growth. However, according to several of the wood industry's associations, there should be a synchronous change in both the government's policies and within enterprises themselves, aiming towards promoting a new mindset, digital transformation, the forming of networks, and further development of supply chains with supporting industries.
Nguyen Quoc Khanh, chairman of the Handicraft and Wood Industry Association in Ho Chi Minh City, noted that the global market has passed the stage of price competition and is now focusing much more on quality, creative value, and design. Vietnam's wood processing and export industry has grown rapidly but was so far mostly focused on the manufacturing sector, with only a few producers creating global brands with self-designed products.
According to Khanh, the consumer demand of the global wood and furniture industry reaches $450 billion, but the production value only accounts for $140 billion, with the rest being divided among creativity, trade, and branding. Khanh also thinks that "these factors will play a vital role in the future of Vietnam's wood industry." VIR
Hai Van - Vietnamnet
Related News