Vietnam's wood and wooden product industry has prematurely achieved its export target set for 2020, as the sector ranked among the top ten areas that generated the highest export revenue for the country in 2017, according to statistics announced this week.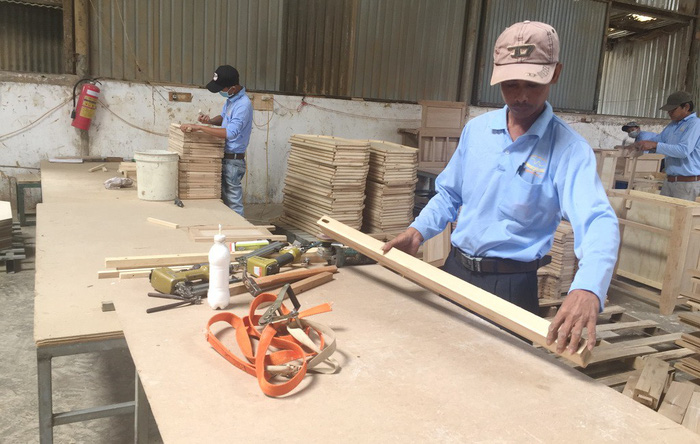 The industry earned US$8 billion dollars in export turnover last year, up 10.2 percent year on year, delegates said at a congratulatory party jointly organized on Friday in Ho Chi Minh City by the Vietnam Administration of Forestry and the associations of forest and wooden products from some of the country's areas.
The result was attained three years ahead of the initial target, according to which the export value was projected to top $8- 8.5 billion by 2020.
This achievement earned the field the sixth position in the leading domestic industries with the greatest export value, while it stayed at 7th in 2016.
Export enterprises in Vietnam witnessed a significant increase in the market share of wood and wooden products, from 20 percent in 2010-2015 to 50 percent between 2016 and 2017, with the rest taken by foreign direct investment companies.
The success is attributed to a number of factors, according to Nguyen Quoc Khanh, chairman of the Handicraft and Wood Industry Association of Ho Chi Minh City.
The main cause is that many rival countries like China, Malaysia, Indonesia and those in the European Union have reduced the competitiveness of their wooden products.
Many domestic firms in the industry took their own initiatives, tailoring their products' designs and patterns to customers' taste and preferences, Khanh said.
The wooden product industry is expected to encounter a number of challenges for the time to come.
The gravest problem is that Chinese companies tend to shift their activities to Vietnam in the form of joint enterprises, according to chairman Khanh.
The United States, which has been the largest market for Vietnam, has introduced a policy in favor of its various industries, including the wood one, which means that Vietnamese businesses will face difficulties in trading wooden products with the U.S., he said.
TUOITRENEWS
Related News