Many wood artisans are in need of support so that their works can get recognition in the global supply chain.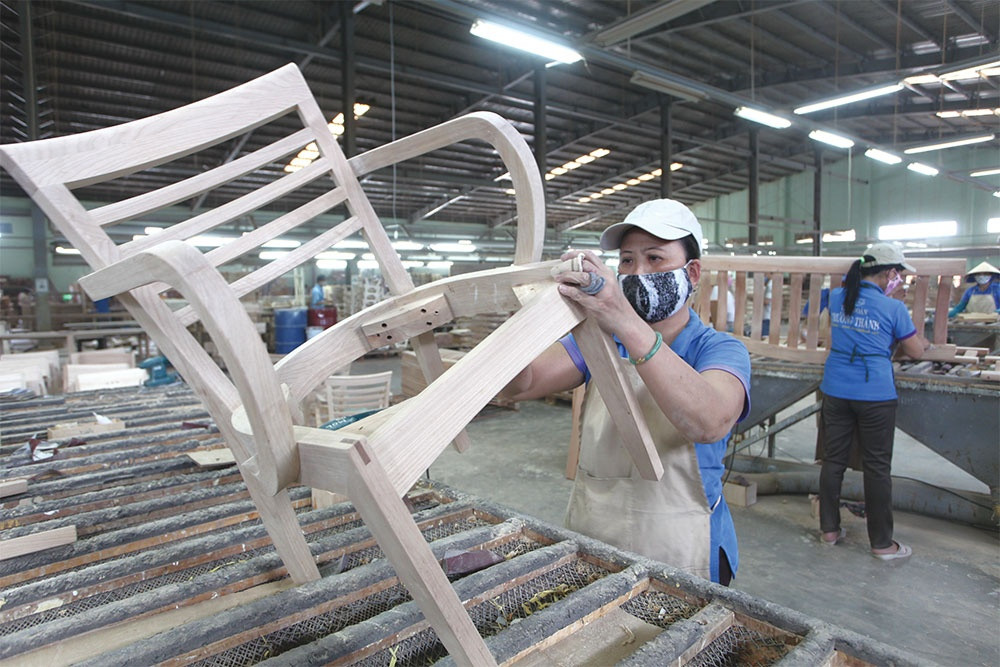 Two weeks ago, four northern carpenter villages of more than 10,000 families sent documents to the Ministry of Agriculture and Rural Development (MARD) and the Ministry of Industry and Trade, stating their wish to accept assistance for transition to smoother working practices in order to survive and thrive sustainably.
"We are aware that the conversion of raw wood from high-risk imported natural wood to low-risk wood is a required trend for all artisan communities," the document read. "For a gradual transition, we propose that the MARD work with other ministries to identify sources of assistance, helping us in participating in linkage models, and expedite access to available resources."
The carpenter villages consume the most hazardous wood in Vietnam. About two million cubic metres of unprocessed wood are imported yearly from Africa. According to Forest Trends, the system primarily uses this quantity of wood to produce furniture for the domestic market.
Vietnam has dedicated itself to removing illegal timber from the distribution network, either domestically or for export, in the Voluntary Partnership Agreement on Forest Law Enforcement, Governance, and Trade with the EU, as well as a Vietnam-US timber agreement. Oversight of imported risky timber plays a crucial part in achieving this.
Dr. To Xuan Phuc, managing director of Forest Trends, warned that the use of illicit wood for exports will deprive Vietnam of opportunities in broadening the market. According to him, it is difficult for the country to properly meet its obligations to its main import suppliers because they continue to see artisan villages and the local market as "insignificant components".
With some groups clearly asking for assistance, Phuc sees an opportunity for the Vietnamese government to establish connections with all parties in order to expedite the fulfilment of agreements regarding eradication of illicit wood. "However, policy statements must be communicated more broadly, while also distributing knowledge and assisting Vietnam's craft villages," he said.
Some of the bigger wood groups are accelerating partnerships in order to secure legal supply. The president of Tavico Timber in the southern province of Dong Nai, Vo Quang Ha, visited the northern province of Hung Yen last week to explore "direct collaboration" with Thuy Lan carpenter village. Tavico is establishing an ecology for traditional wood craft communities by securing the legal supply of timber. To create and sell items in the southern regions of Vietnam, woodworking communities could collaborate with Tavico.
According to Ha, Vietnam's wood industry has spent years working to manufacture goods with high added value, comparable to those of the Japanese and South Koreans, while simultaneously developing the local market.
Now, however, enterprises are too concentrated on exports, practically ignoring the local craft village market. Vietnam's exports of wood and forest products have significantly increased from $4.5 billion in 2012 to $15.8 billion in 2022.
"One drawback of handicraft villages is their lack of creativity, since they just copy models and offer comparable prices, which is not the case in the present marketplace," Ha said.
The perspective of CEO Tavico has piqued the interest of several traditional communities. Nguyen Van Truong, owner of Truong Nam furniture in Thuy Lan craft village said, "We aim to join up with legal and dependable wood suppliers to lower the expenses of trade advertising, market research, and logistics."
Over the last 10 years, Thuy Lan village has established a manufacturing chain based on product groups, specialising in tables, chairs, and cabinets. Processing facilities concentrate on designing and branding, which demonstrates the originality of Thuy Lan, but also strikes on the delicate issue of supply of legal wood.
"We nearly endangered our brand when we used imported wood from questionable sources," said Truong. Before 2008, the majority of Thuy Lan's natural wood supplies came from Vietnam, then Laos, and in the past five years, Africa.
Truong said that in the majority of Vietnam's carpentry villages, the manufacturing of legal wood products narrows financial margins in light of high input costs and low selling prices.
More than 300 communities in Vietnam are devoted to wood processing, with approximately half of them located in the Red River Delta.
It is estimated that around 350,000-400,000 cubic metres of imported and locally harvested logs are used annually in Vietnam's wood craft communities.
The government issued Decree No.102/2020/ND-CP in 2020, specifying a legal timber assurance system and associated judgements outlining the criteria for identifying problematic imported wood, therefore establishing a risk-control system.
Source: VIR
Related News