The furniture industry aims to achieve sales of US$20 billion by 2025 and move from doing mainly sub-contract work to original design.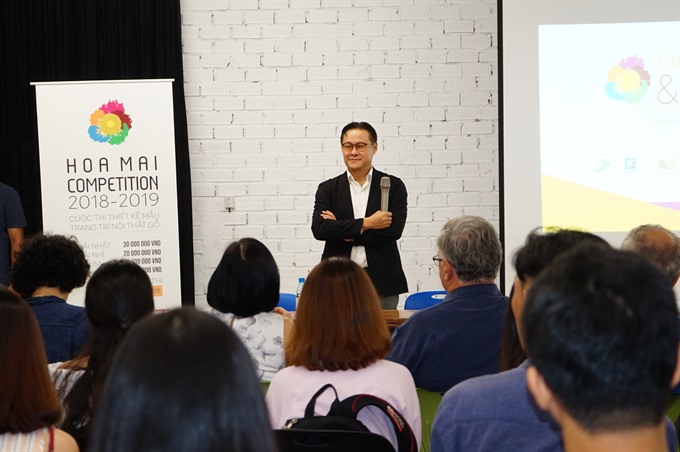 Nguyễn Quốc Khanh, chairman of the Handicraft and Wood Industry Association of HCM City (Hawa), said at the launch of the 2018-19 Hoa Mai furniture design competition in HCM City on October 8: "Design plays a vital role in enhancing competitiveness not only of companies but also the furniture industry and the country."
Last year wood and forestry products exports reached $8 billion for the first time. Among the country's biggest export items, their value is expected to top $9 billion this year and $20 billion in 2025, according to Khanh.
Enhancing competitiveness through design, innovating products and training young and creative designers are the industry's strategies to achieve sustainable development and make Việt Nam become a licit and prestigious global furniture production hub.
The industry used to compete on price in the past and on quality now, but in future it will be design.
To that end, it seeks a makeover, hoping to change to 80 per cent ODM (original design manufacturing) from the current 80 per cent OEM (original equipment manufacturer or manufacturing furniture to designs provided by buyers).
Hawa understands the importance of design to the furniture industry and so has been organising the design contest for many years.
Hoa Mai aims to identify and nurture talented designers and interior and exterior products that feature not only unique ideas but also practical functions.
Lý Quý Trung, CEO of Nhà Xinh Furniture, said "Current trends are not only unique in terms of design language but also lend themselves to mass production".
Michael Buckley of the American Hardwood Export Council, the platinum sponsor of the competition, advised contestants to "understand the materials you are working with" and use wood that fits the purpose.
After the launch, Hawa will organise road shows to take the contest to colleges and universities to encourage students to take part.
The deadline for submitting entries is November 22 and the awards ceremony will be held at the 2019 VIFA-EXPO next March.
VNS
Related News