US and EU continuing to experience high inflation and slowing real estate markets.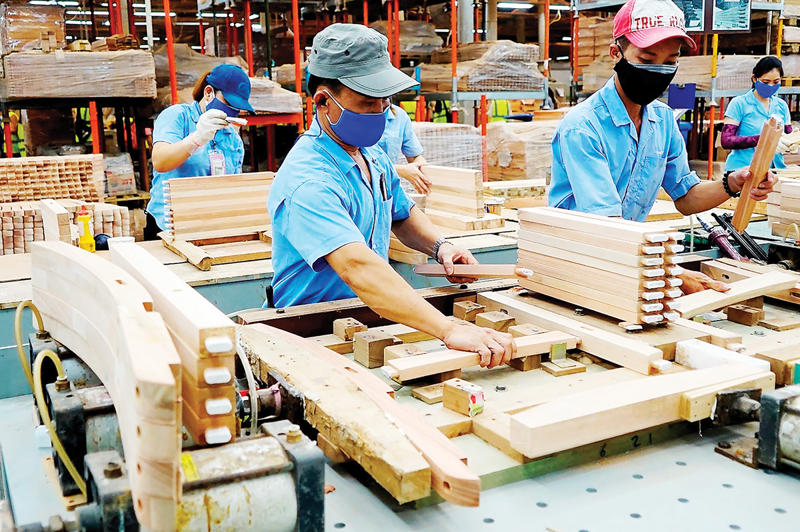 Exports of wooden products to the US and the EU will find recovery difficult for the foreseeable future due to rising inflation in the two key markets together with a slowdown in their real estate markets, according to analysts.
Figures from the General Department of Vietnam Customs show that exports of wooden products in the first quarter were estimated at $1.87 billion, down 38.5 per cent year-on-year.
Exports of bedroom furniture to the US in the first three months of the year dropped 51.1 per cent year-on-year.
During the period, exports of wood and wooden products to the EU reached only $133.2 million, down 37.1 per cent year-on-year.
At a recent workshop in Ho Chi Minh City on wood exports to the US and the EU and their potential, analysts said inflation in Vietnam's key export markets remains high, thus limiting consumer spending on non-essential items. Countries are adopting measures to curb inflation but there are no signs of prices easing as yet.
Growth in the EU is forecast at just 0.5 per cent this year and inflation is predicted at some 7 per cent, which will continue to affect demand and create difficulties for countries exporting products to the bloc.
The real estate markets in both the EU and the US are in a "quiet" phase and showing no signs of recovery, while exports of furniture depend greatly on the sector. Furniture exports are therefore expected to continue to struggle.
Though exports to the EU benefit from new-generation free trade agreements, technical standards and proof of wood origin set by the EU are not easy to meet, according to analysts.
In the US, import demand has not improved and their remains large inventories from last year, meaning furniture exports are unlikely to grow in the short term.
Wood enterprises exporting to the US face other difficulties such as tightened monetary policy, high inflation, and high logistics costs.
Deputy Director of the Ho Chi Minh City Investment and Trade Promotion Center Nguyen Tuan said the consumption of furniture in the EU accounts for 25 per cent of the global total, with annual growth of 4.5 per cent. However, exports of Vietnamese wooden products to the market are limited.
Vietnam's furniture exports accounted for only 1.9 per cent of the EU's total last year, indicating there is potential for market share to grow.
The EU-Vietnam Free Trade Agreement (EUVFTA) creates favorable conditions for the wood sector and offers Vietnam a competitive advantage from tariffs gradually falling to 0 per cent. This will also help attract investment from the EU to Vietnam.
The EUVFTA has been in effect for three years and gives a boost to Vietnam's exports to the bloc. It is one of four countries in Asia to sign a trade agreement with the EU.
Chu Khôi - Vneconomy
Related News