The Handicraft and Wood Industry Association of HCM City (HAWA), the Binh Duong Furniture Association (BIFA) and the Handicraft and Wood Industry Association of Dong Nai (DOWA) on March 5 signed co-operation agreements with FPT Corporation on promoting digital transformation to help wood processing enterprises optimise operations, save costs and improve competitiveness.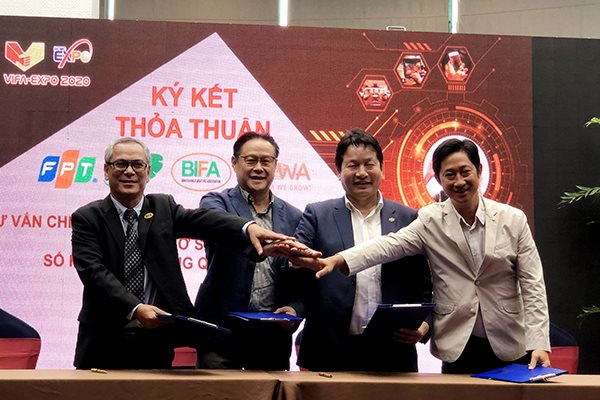 With its experience, technology and high-quality human resources, FPT will give advice on the digital transformation strategy to members of the associations.
FPT will also help build databases for the wood processing industry and digitalise management activities for the associations and their members, and introduce the latest IT technologies to associations and their members.
HAWA on Thursday also signed an agreement with the Viet Nam E-Commerce Association to support its members to connect with e-commerce platforms such as Amazon, Wayfair, Shopify and intermediaries on e-commerce platforms.
Under the agreement, the two sides will co-operate in providing HAWA members with training on e-commerce and digital marketing skills.
In addition, HAWA signed a co-operation agreement with Singapore's Silversea Media Group. Under the agreement, the Silversea Media Group will introduce advanced technological solutions to help wood processing firms boost exports in other markets and increase sales in the domestic market.
Another agreement was signed between HAWA and the CIO Vietnam Community to carry out training and consulting for digital transformation projects.
Truong Gia Binh, FPT's chairman, said with its specific nature, the wood processing industry needs a large space to display products so that customers can see and touch them.
The development of e-commerce and digital platforms and devices will help local producers access cross-border customers quickly and at any time, without requiring large spaces and many staff.
Virtual reality and 3D showroom technology can also help customers visit showrooms and factories visually from afar, he said.
Nguyen Ngoc Dung, vice president of Vietnam E-Commerce Association, said the combination of offline and online business models promises to be a solid business platform that would help wood processing firms develop sustainably, especially amid the COVID-19 epidemic.
Nguyen Quoc Khanh, HAWA's chairman, said the wood processing industry's export revenue reached US$11 billion last year and expected to top $20 billion by 2025.
To realise the target, the industry needs to enhance digital transformation to create a breakthrough in production and trading.
VNS
Related News