Although Vietnam has reported high growth in wood and wooden product exports in recent years, only 5% of the exported products were designed locally, stated Nguyen Quoc Khanh, chairman of HCMC Handicraft and Wood Industry Association.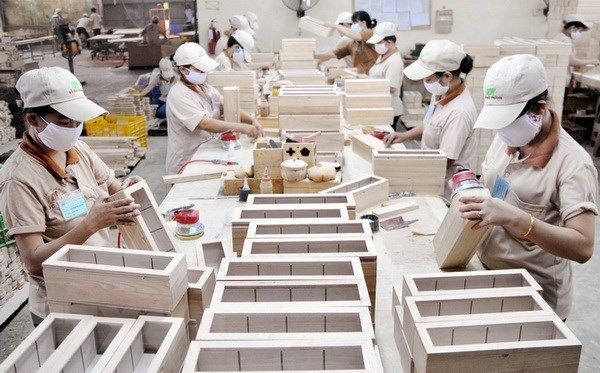 At a press briefing on May 7 to introduce Vifa GU 2019, an exhibition on interior lifestyle, which will be held in Vietnam for the first time from May 16 to 19, Khanh noted that most of Vietnam's wooden products are processed based on the available designs of foreign companies, rather than original design manufacturer (ODM) products.
According to HAWA, domestic wood processing companies have overtaken foreign direct investment enterprises in terms of export revenue, and can compete fairly with foreign rivals to provide products to large corporations. However, local wood enterprises are weak in design and distribution.
Despite high export growth, the added value of locally processed wooden products remains low, he said.
Vietnamese wood brands remain unpopular in the global market though the Comprehensive and Progressive Agreement for Trans-Pacific Partnership has already come into force, expanding markets for Vietnam's wooden products to Canada, Mexico and Peru.
Vifa GU is expected to help improve the sector's ODM capacity.
According to statistics from the General Department of Customs, Vietnam generated US$2.27 billion from wood and wooden product exports in the first half of the year, up 16.2% year-on-year. Vietnam's wood and wooden products were mainly shipped to the United States and Japan.
Last year, the revenue from wood and wooden products reached nearly US$9.4 billion, accounting for over 23% of the agriculture sector's total export turnover. The wood processing sector also enjoyed a trade surplus of over US$7 billion.
The sector has set a target of US$10.8-11 billion in export revenue this year, a 16%-18% increase over 2018.
Vifa GU, which will be held at the Saigon Exhibition and Convention Center in HCMC's District 7, is expected to attract nearly 100 exhibitors displaying their products, equipment and technology at some 500 booths.
Nguyen Chanh Phuong, vice chairman and general secretary of HAWA, said Vifa GU is an important event for promoting the trade of wood and wooden products.
Many interior businesses across the country will demonstrate the latest trends in interior design. The exhibition will also include eight specialized seminars on the modular housing, modern housing trends and Italian design styles.
SGT
Related News